christmas eve and raring to go!
A STEP-BY-STEP PROGRESSION OF A PAINTING
I always thought it would be fun to explore what it would be like up at the North Pole when the reindeer were being harnessed for the sleigh! --SG
Click the Slideshow arrows below to see a step-by-step progression of the painting! Caption descriptions are below the images.
1 - Compositional sketch
The rough sketch tries to convey the basic idea of what the upcoming painting will look like and defines the main characters and basic composition. Of course, changes usually occur as I get more reference and define the characters accordingly.
2 - Character size Comparisions
I thought it might be a good idea to establish the size relationships of the characters right away, and this little diagram came in handy.
3- Sculpey sculptures
If time allows, making a sculpture of my main characters is really helpful for lighting effects that I want to show in the final painting. Plus, now I'l have consistent photo reference for this character for future paintings. The reindeer head was also done in Sculpey, primarily so I could at last have reliable reference on how the antlers looked at various angles, as that's really hard to fake!
4 - Compositional drawings
It seemed the easiest way for the elves to bridle a reindeer would be to work from a platform, so this sketch is exploring that. On the right is a study of a window.
5 - Character designs
On the left the elf is bridling the reindeer, on the right are a few head studies.
6 - Building a Barn model
In order to see what the lighting inside the barn would be, I made a corrugated barn, and set up some toy animals for lighting and scale. I'm also in the process of growing out my "Santa" beard, which I've promised to trim back after the shoot…
7 - Toy animals for scale and lighting
Here's an assortment of barn animals, complete with a cow and horse attempting to fly. The main objective is to see what the interior lighting will look like.
8 - Close up of toy animals
9 - More size relationships
Of course, my assistant Joe needed to get involved. Here he is next to my reindeer sculpture I did when I was working on "The Night Before Christmas," along with one of my elf sculptures. The tiger to the right also looks like he wants to fly.
10 - Photo reference boards
Here is yours truly posing as various elves in the process of bridling the reindeer, and on the right as Santa. This is where the full beard came in handy, along with a new Santa suit!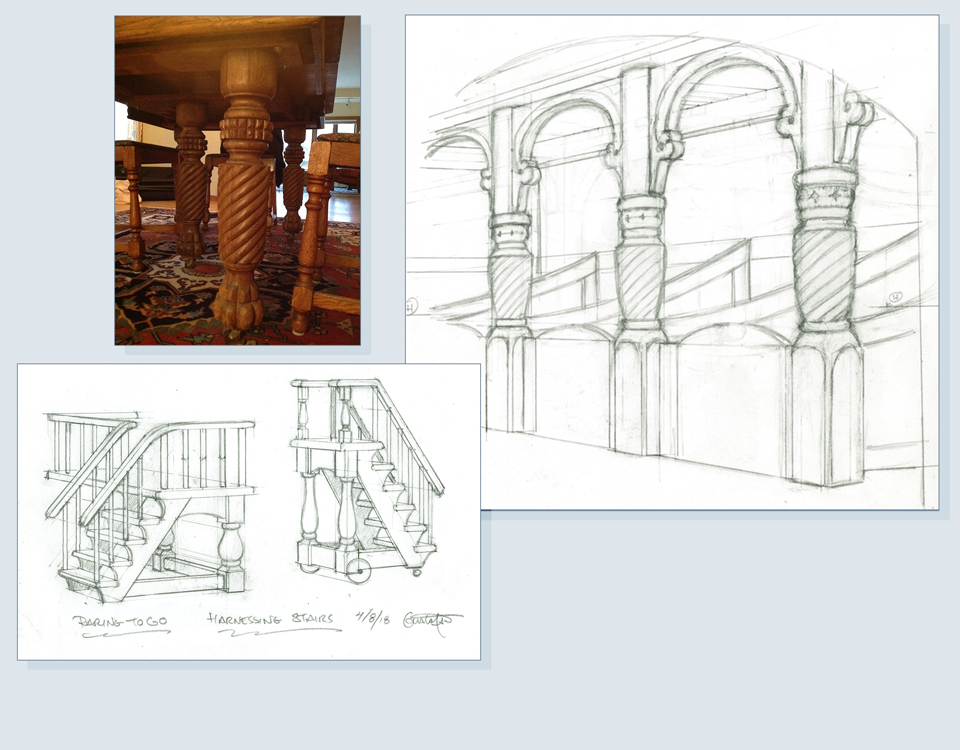 11 - Interior drawings and photo reference
I'm showing a photo of our dining room table legs, which have been inspiration for several other paintings as well, and then the drawing of the stable columns. To the bottom left is a detailed drawing of the platforms the elves used to harness the reindeer.
12 - Door hinges development
In the background you can see how variations on the barn door hinges were developed - lots of styles and eventually one solution. The deciding factor was how how Santa, and especially the reindeer's antlers would look in front of each. In the end, simpler was better.
13 - Intermediate drawing
This is an intermediate stage between the rough sketch and the final drawing. So I've taken things to a more refined stage than the sketch, but will do yet another final version of the drawing from this.
14 - Interior details in position
I'm working out the perspective of the stable and it's interior.
15 - Shot of the drawing board
…showing xeroxes of reindeer heads, elves in position, etc. As you can see, I need to try lots of size variations of main elements, which I do by xeroxing and cutting them out, and backing them with repositionable adhesive wax.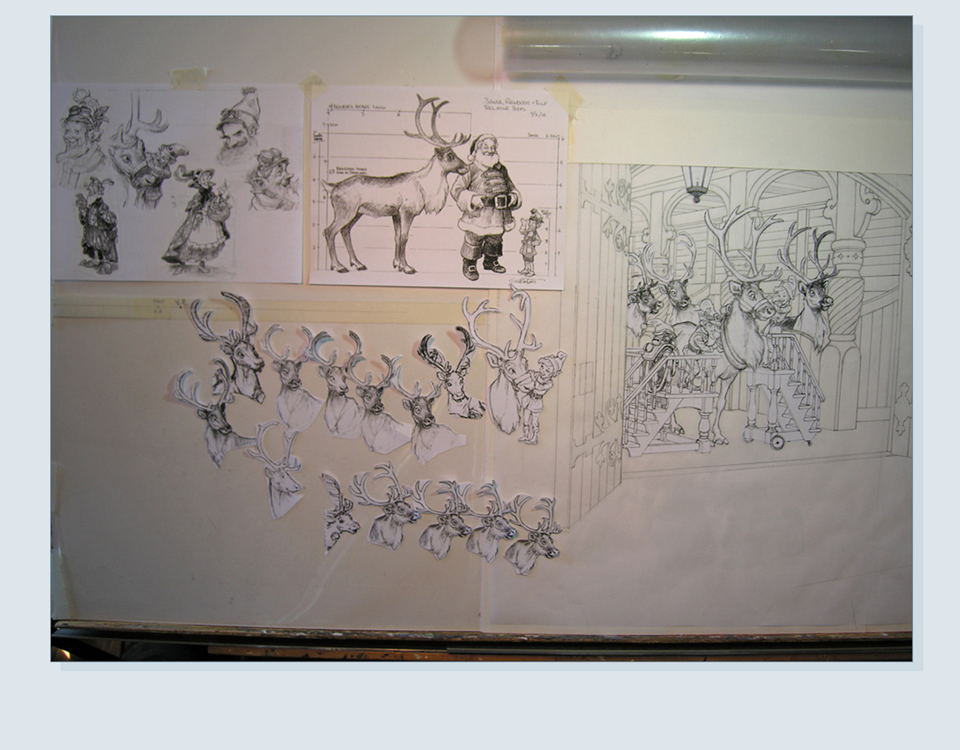 16 - Another shot of drawing in progress
…basically, everything is in position here.
17 - Santa finished drawing
Here is the final drawing of Santa.
18 - Reindeer on left
Here's the reindeer that Santa is leading.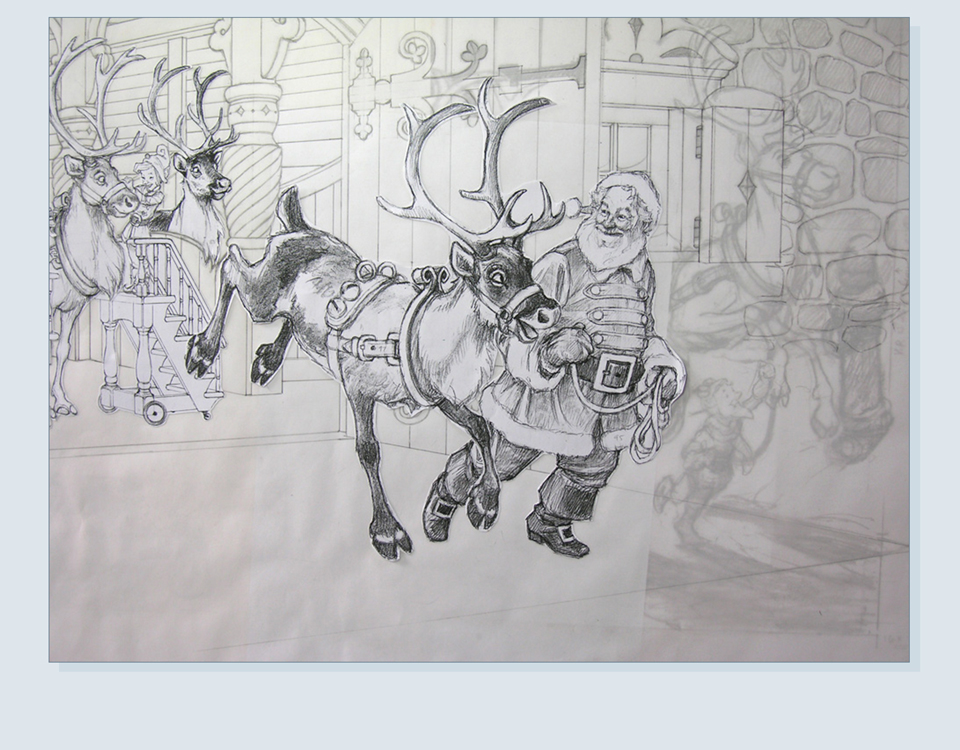 19 - Placement of Santa and Reindeer
I have Santa and his reindeer on one layer, and the Elf and right reindeer on another. Testing sizes and relationships.
20 - Elf Drawings
I tried a couple of slight variations on his pose to see which worked better in the composition.
22 - Final drawing - ready for print out
Here's the final drawing with various marks indicating possible crops. This is the file that will be printed out on archival paper and will eventually be mounted onto a panel.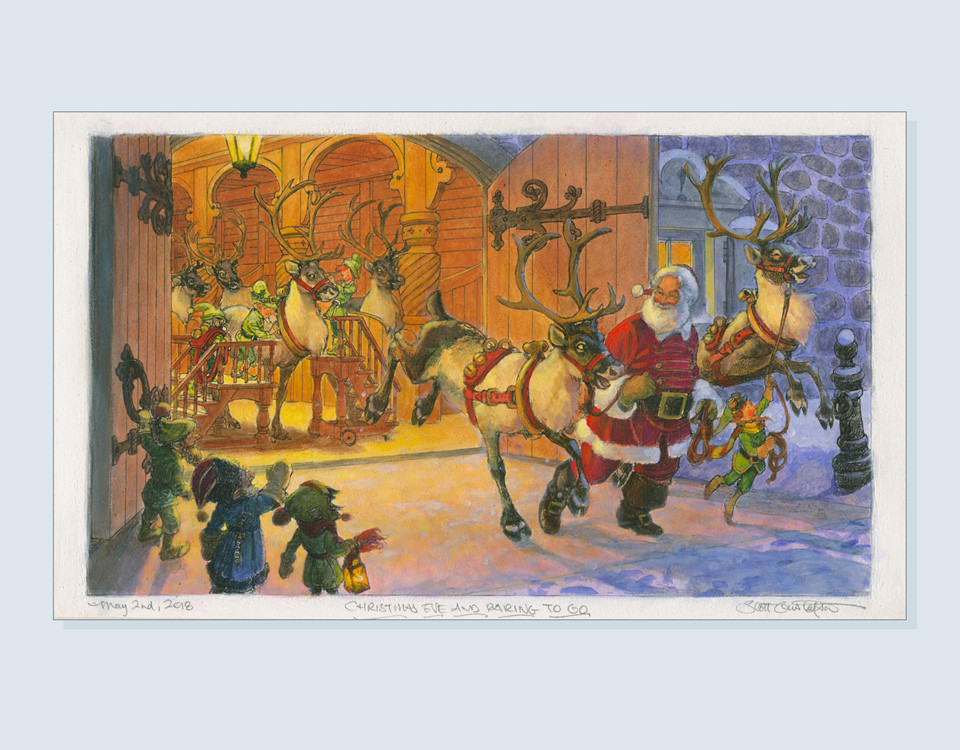 23 - Color Study
Once I have a my file of the final drawing, I print out a small copy, and then I paint directly on that as my color study. This is usually done in acrylics.
24 - First day of painting
The full-sized print out of the final drawing has been mounted onto a masonite panel, and been allowed to dry. And the following day, I start laying in some basic overall color washes in oil.
26 - Interior reindeer detail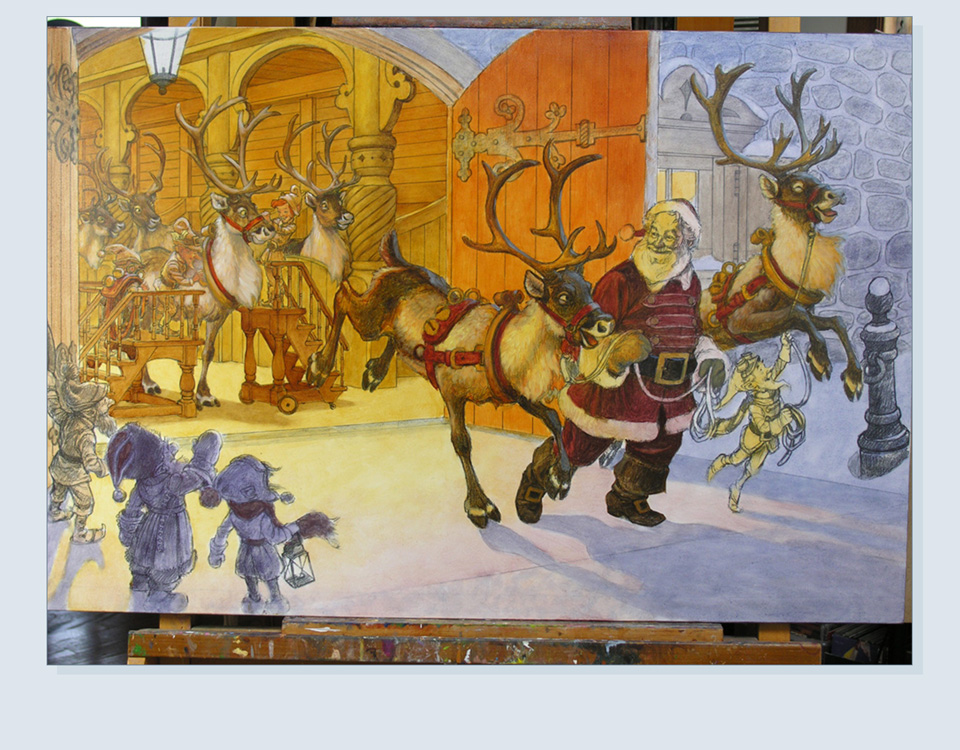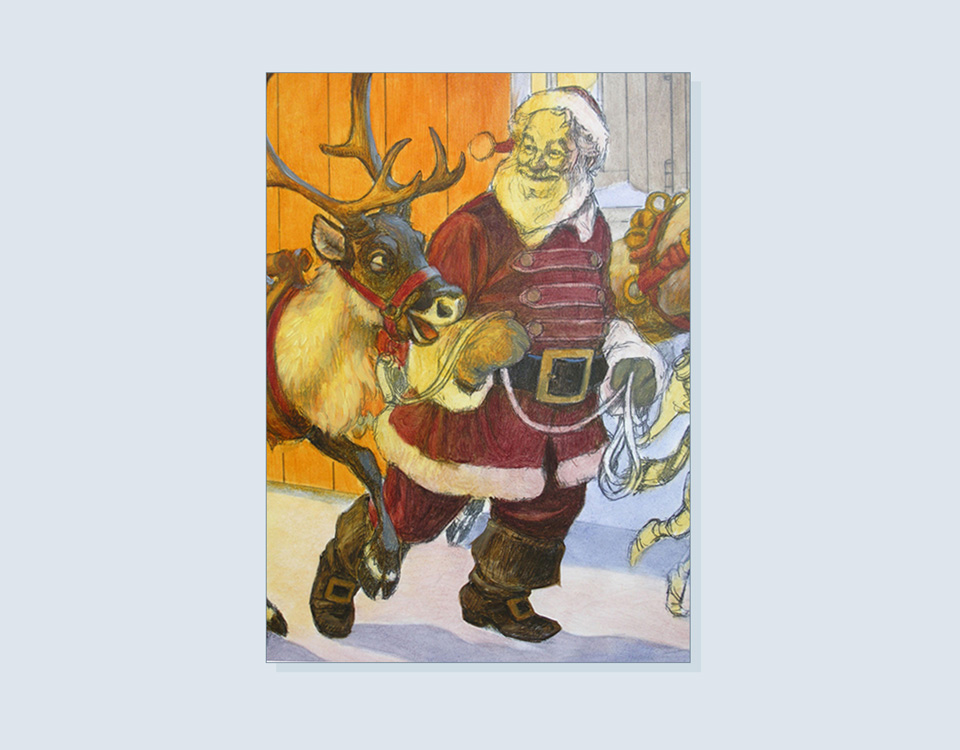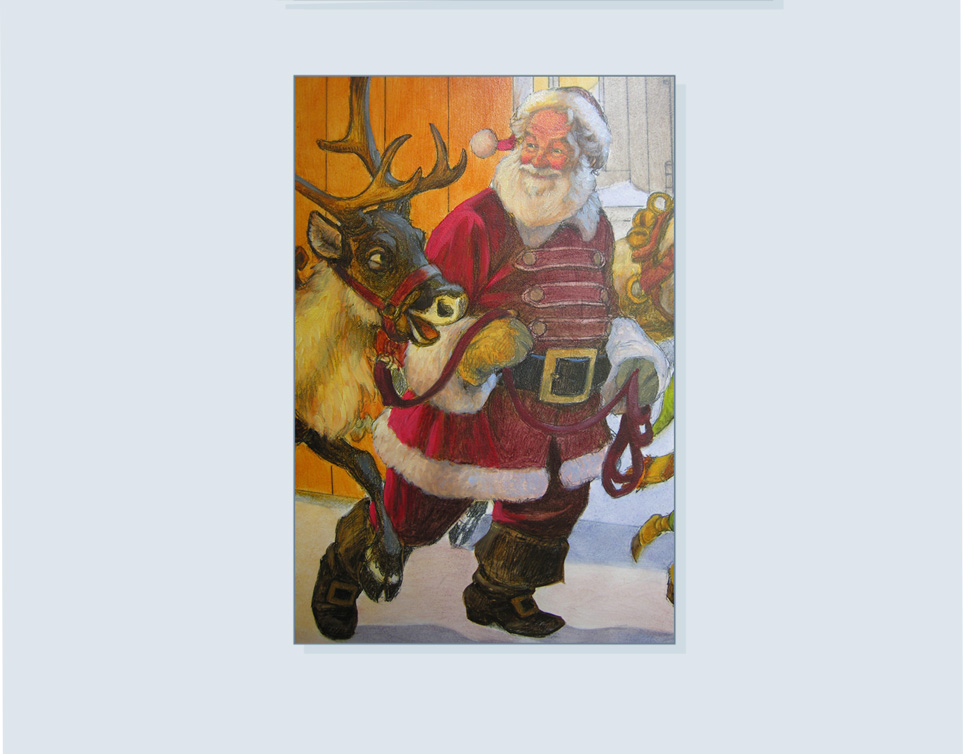 31 - Elves bridling reindeer 1
Here's a little progression on the reindeer and elves.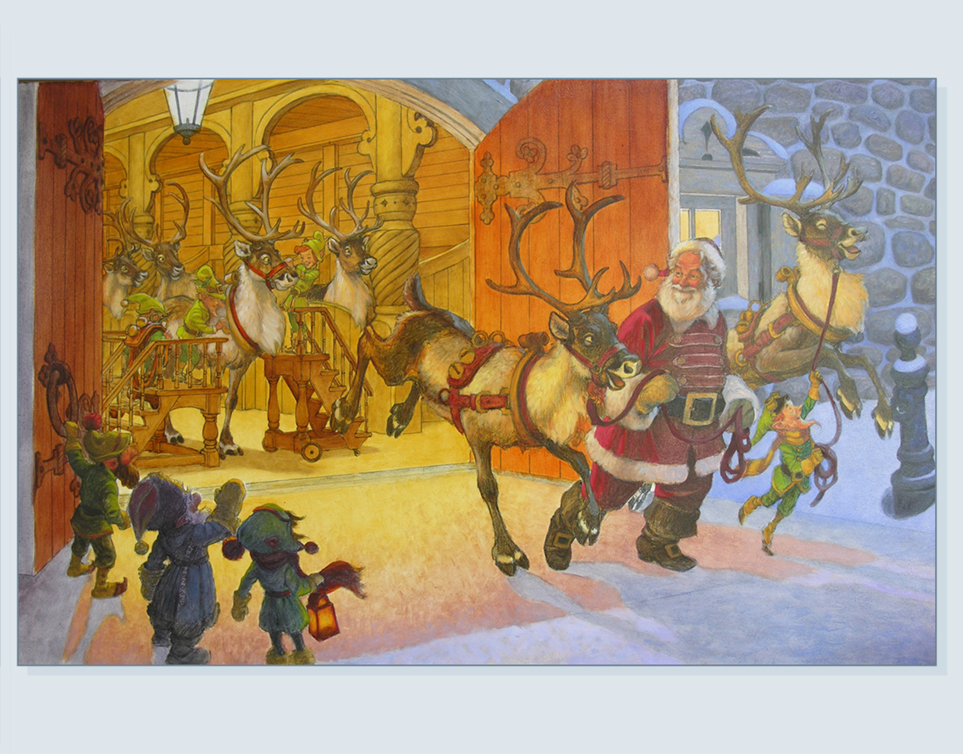 32 - Blocking in color areas overall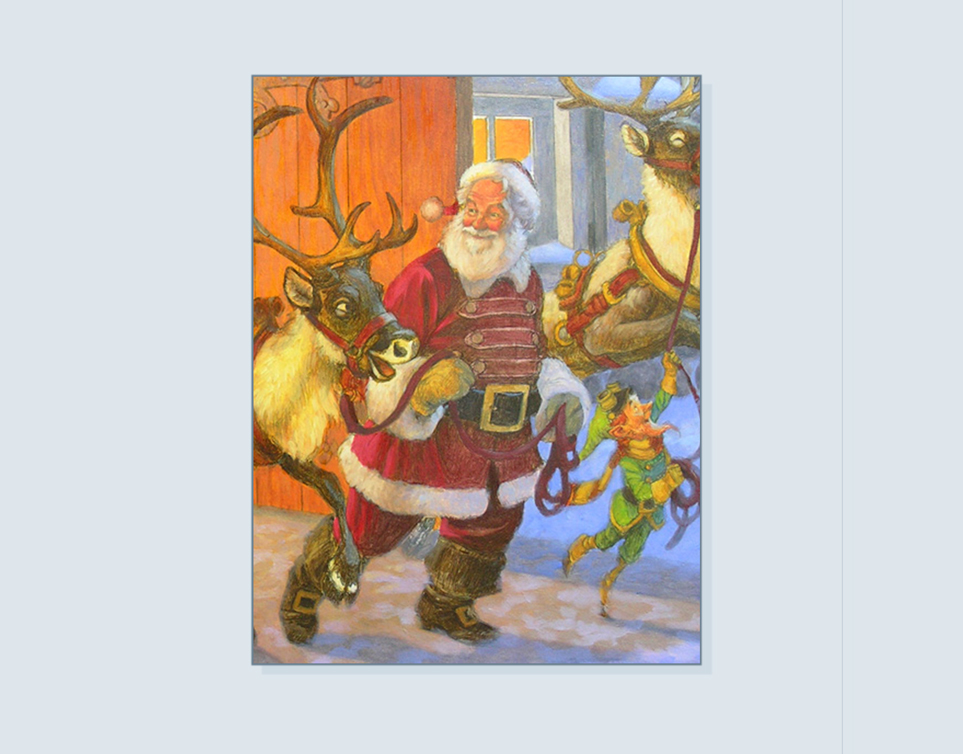 33 - Continued work on Santa
36 - Santa's head progression
Here's a side-by-side comparison of how Santa's head has progressed so far.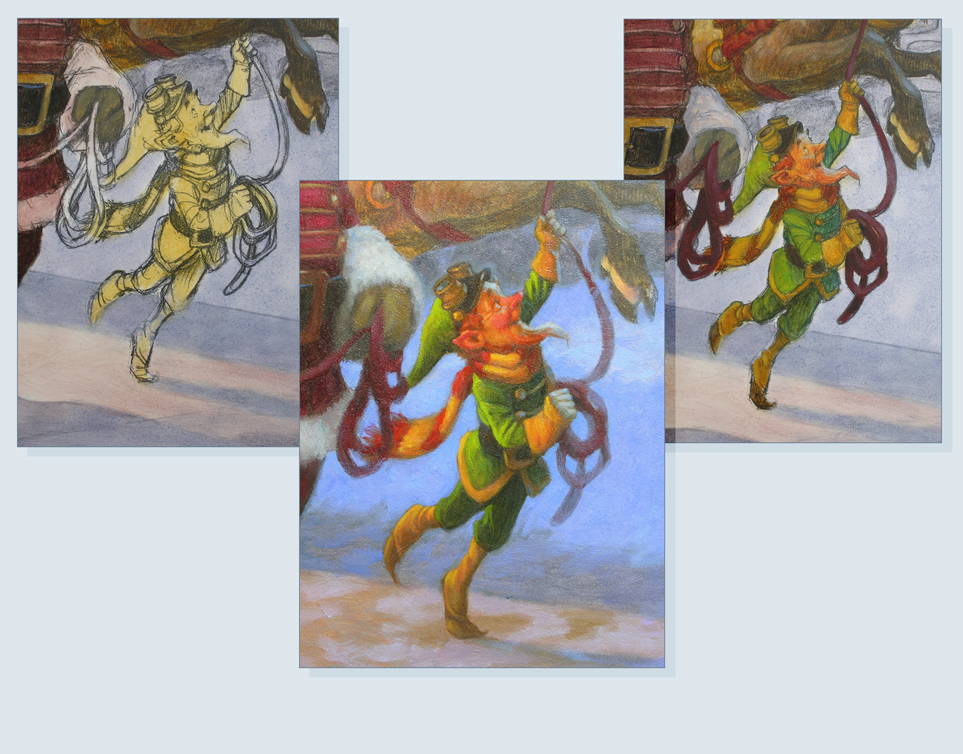 37 - Main Elf progression
39 - Santa's head progression to final
40 - Composite shot of progress
41 - Continuing work on interior elves and reindeer
42 - Foreground Elves - 1
43 - Foreground Elves - 2
44 - Foreground Elves - 3
45 - Foreground Elves - final
46 - Final Painting
Here's the final painting of "Christmas Eve and Raring to Go!" Thanks for following along on the progression and I hope you enjoyed it. Happy Holidays! SG